UPCOMING EVENTS
Thursday, May 19th 2022 – 7 to 11 PM.
MEET THE ARTIST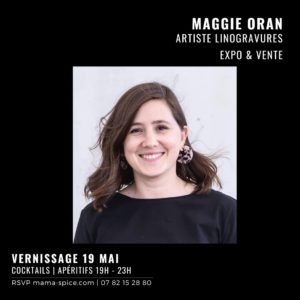 Her prints are entirely
#handmade
in limited editions, and each one is signed and numbered.
Originally from California, Maggie has lived in France for ten years.
Evènements passés
---
PAST EVENTS

KOUSS.KOUSS FESTIVAL 2021
Mama Spice is thrilled to once again participate in the Kouss.Kouss festival, initiated and coordinated by Les Grandes Tables, I.C.I and Marseille Centre.
For this 4th edition, Kouss.Kouss invites the 4 countries: Algeria, Morocco, Tunisia and Mauritania whose joint entry of couscous earned its place on the UN list of the world's Intangible Cultural Heritage. This festival also invites chefs and restaurants to render their interpretation of "Couscous my heritage". 
COUSCOUS "ANNIE"
Lamb kebab, meatballs with spices, merguez, homemade broth … It's a love story of spices, of the transmission of Annie's recipe, Devaky's incredible mom-in-law, she has spent 10 years in Morocco and Algeria.
COUSCOUS "MER"
Fish (catch of the day) grilled with spices, shrimps coated with an onion – tomato – ginger chutney, fried onion balls, veggies, homemade fish and vegetable broth… A recipe inspired by a conversation between Devaky and Chakira – fishmonger at the Old Port of Marseille. The recipe is a wonderful blend of Kerala and Tunisia of these two fish lovers.
COUSCOUS "INDIA"
A delicious blend of Devaky's native Kerala and her love of world cuisine – Chicken marinated in spices and seasonal vegetables slowly simmered in coconut sauce, couscous with roasted vegetables, pickles, ginger chutney… A delectable Mama Spice creation.
SADYA
We travel to KERALA with a SADYA, a traditional meal from my home.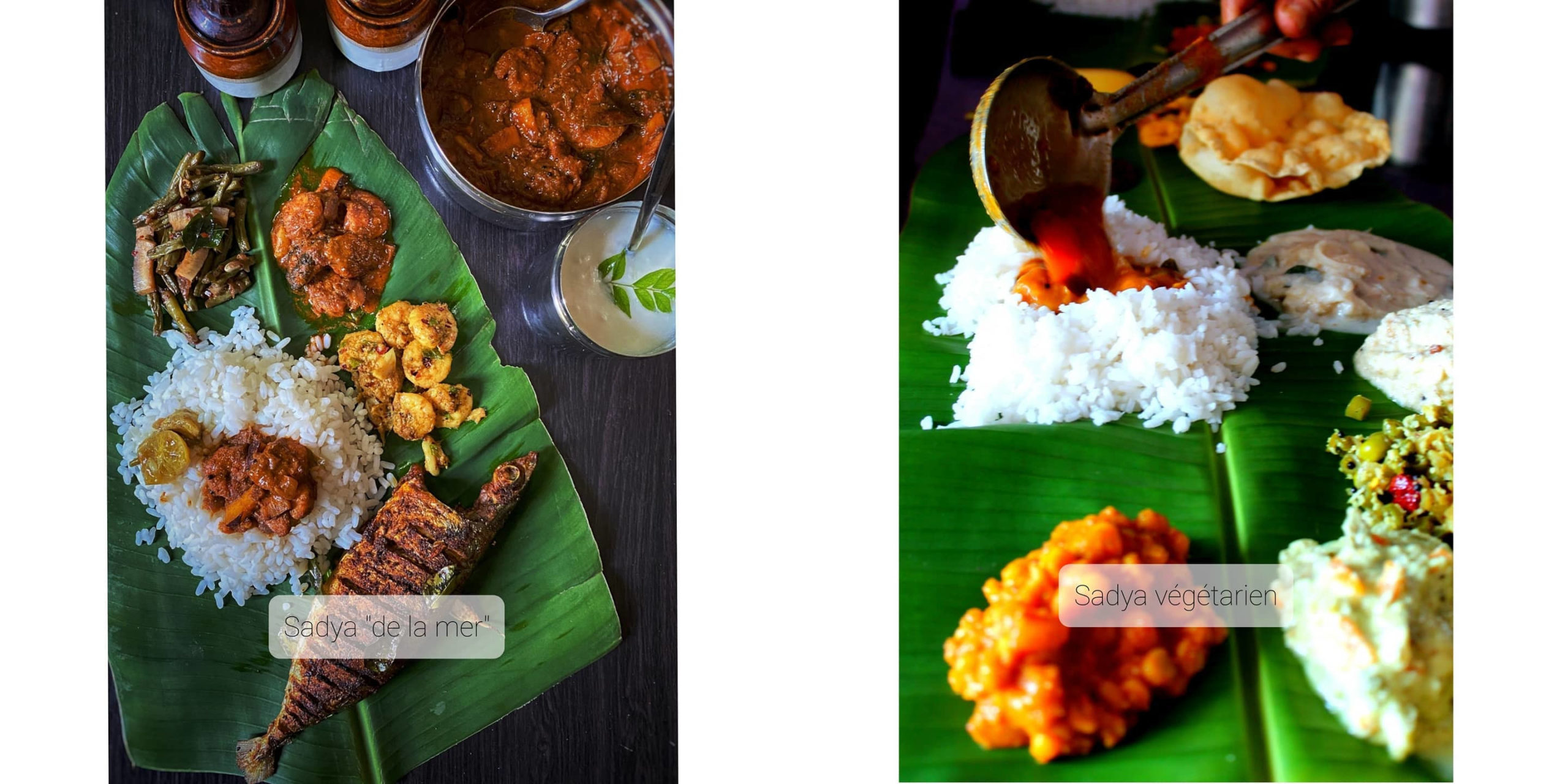 Come share the joys of a culinary voyage to my roots around vegetarian dishes or a seafood sadya (served on a banana leaf for the occasion!), exchange travel stories!
To live this culinary experience together right here in our beautiful Marseille, is an exquisite nostalgic opportunity to make you discover my native Kerala. And I get to live my Kerala vicariously through all of you!
DOSA Night

DOSA, the quintessence of South Indian cuisine. One evening of each month will be dedicated to her at Mama Spice. Discover the varieties and the richness of this delicious dish that we eat for breakfast at my place! Personally, I would eat it morning, noon and night! I invite you to make this stopover in my Kerala.